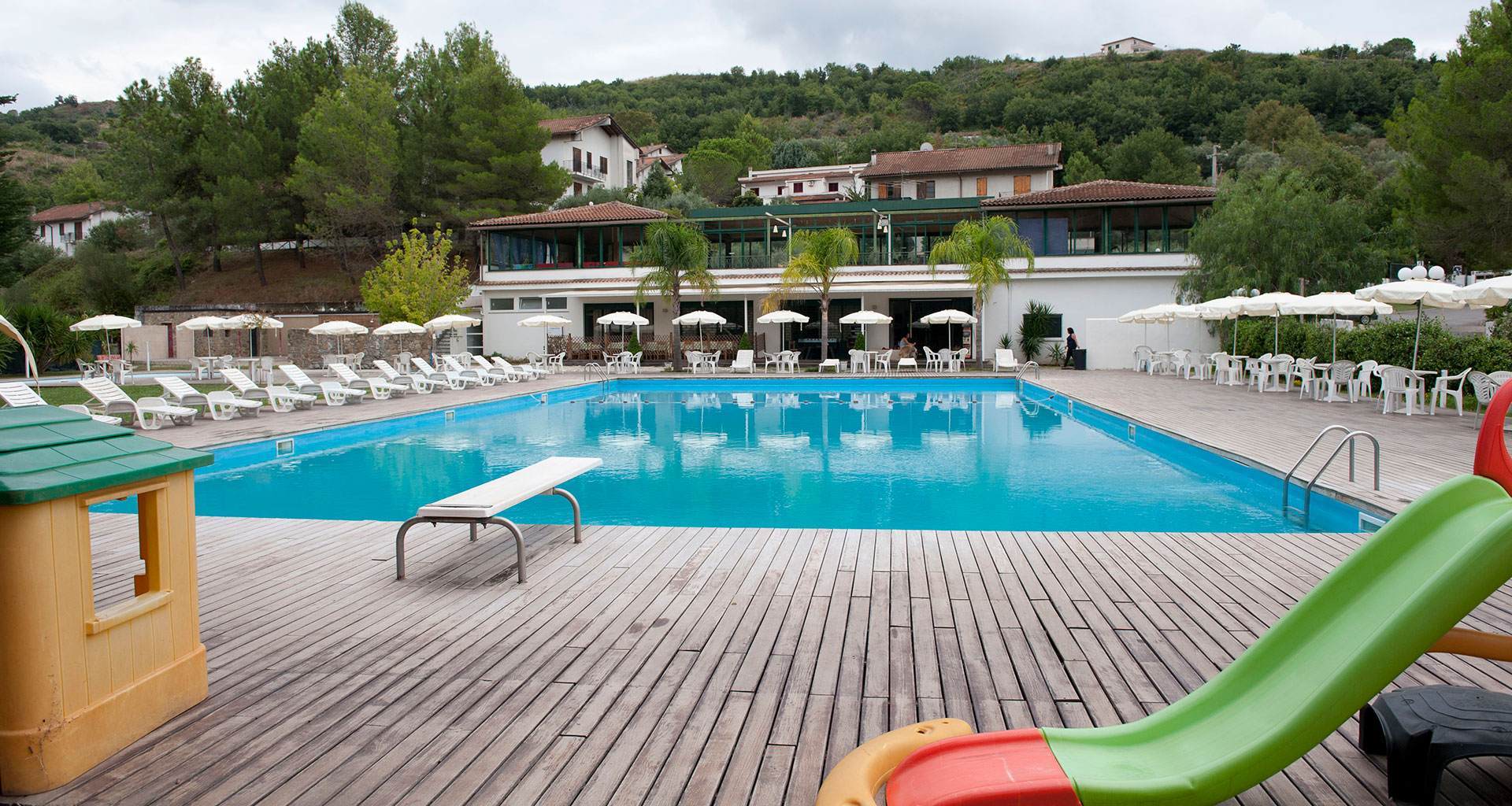 Immersed in a large park full of greenery and Mediterranean scents, the Parco Elena tourist complex is composed of a residence with charming villas overlooking wide tree-lined avenues and extends over the common areas, with numerous services for those of you wishing to take a relaxing and enjoyable holiday. The four-family villas are independent and come with a parking space and private garden (where your four legged friends can enjoy their holiday!).
The swimming pool, surrounded by umbrellas and sun loungers, in July and August is the place to be for relaxing moments, or for fun events and evening activities carried out by our staff who will brighten your days (and nights in the Parco Elena disco) with pleasant shows for both the young and old.
We also offer a children's mini club and play area. By the pool, you can conveniently find our bar, which is always open, and our restaurant offering fresh drinks, traditional dishes and typical recipes to satisfy all tastes. The Restaurant is currently available for groups and special evenings only, and with a reservation made in advance.
To access the beautiful beaches in Agropoli, there's no need to take the car. We offer a convenient shuttle bus from Parco Elena in July and August. After a day at the sea, sports fanatics can have a game of tennis, five-a-side soccer or beach volleyball. And if that's not enough, we have ping pong, billiards, a games room and TV: you never get bored in Parco Elena!
Take advantage of Parco Elena's excellent location to choose from the many nature and cultural tours available in the area. Numerous itineraries are possible in Cilento National Park, including the many archeological sites, testimonies of ancient civilization, and the fishing villages that cover the beautiful coastline.
Children can enjoy their own swimming pool!